ENGLISH COMES TO LIFE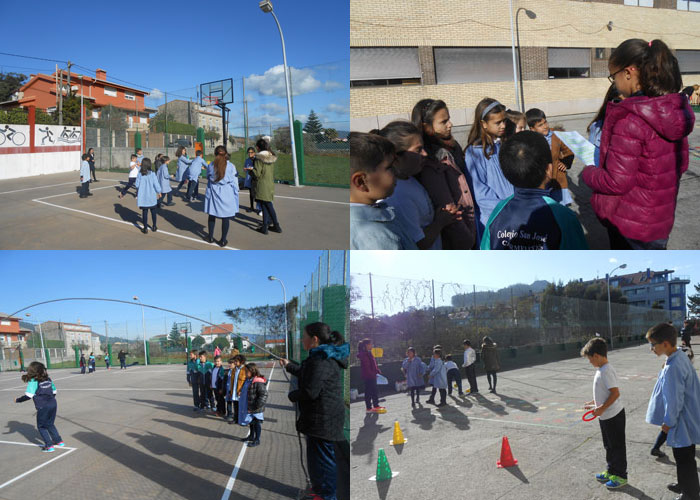 Last November, we have celebrated our first English Week at school. We know that English is not only studying but as well playing, dancing, singing… It has to be life and it happened this week.
During the week, we could see a little exhibition of crafts in the hall of the school. They were made by pupils during this first trimester with teacher Desi and later they were played in the class with teacher Eresí.
But these days we had an enormous number of activities. On Monday, we began playing traditional games like tug of war, spoon race, skipping rope… prepared by teacher David and his pupils. We played together, teams with children of 1st grade to 6th grade. They were collaborative games, we helped ourselves and the coming together was a fantastic experience…And we repeated it on Wednesday.
On Tuesday, we had a musical performance, "The three little pigs". It was played by the children of 6th grade helped by our violinist Paula. It was amazing!
On Thrusday, we had a new performance, this time, "Big Blue Fish and Small Red Fish", played by the pupils of 3rd grade. It is a story about fear, collaboration, sharing and friendship. Later the children of the infant school sang for us "If you are happy". All of us danced and sang with them. It was funny!
And on Friday, our work was art and crafts. We were helped by the pupils of 2nd grade to make a star, a recycled star. We needed a tetra-pack carton, a pair of scissors and our hands. You can see our wonderful starts.
And this is the happy ending of our English Week…but next one is coming soon.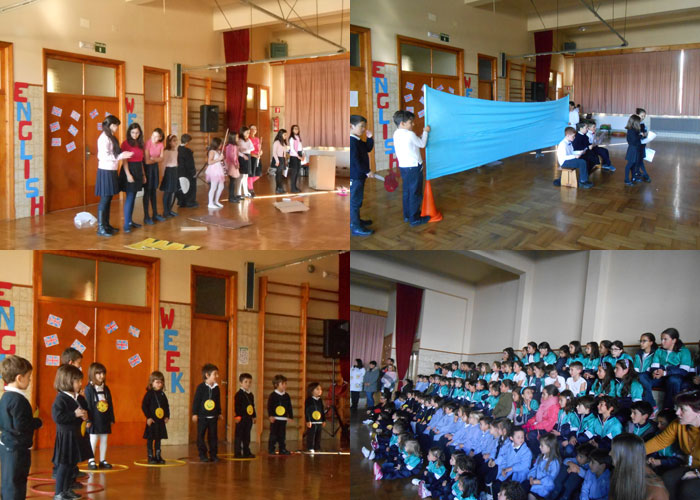 EL INGLÉS COBRA VIDA
El pasado noviembre, celebramos en el colegio nuestra 1ª English Week. Sabemos que el inglés no es solo estudiar, sino también jugar, bailar, cantar… Tiene que ser VIDA y eso ocurrió esta semana.
A lo largo de la semana, en la entrada del colegio, pudimos ver parte de las manualidades que los alumnos hicieron durante este 1er  trimestre con la profe Desi y más tarde utilizaron en clase de música con la profe Eresí.
Pero estos días tuvimos una gran cantidad de actividades. El lunes, comenzamos con juegos tradicionales tales como soga-tira, carreras de huevos, salto de cuerda… preparados por el profe David y sus alumnos. Jugamos juntos desde niños de 1º hasta 6º.Eran juegos colaborativos, nos ayudamos unos a otros y la unión fue una experiencia fantástica… Y el miércoles la repetimos.
El martes tuvimos una representación musical "Los tres cerditos". Interpretada por los alumnos de 6º y con la colaboración de Paula al violín.
El jueves tuvimos una nueva obra, "El gran pez azul y el pececillo rojo", representada por los niños de 3º.Un cuento sobre el miedo, la colaboración, el compartir y la amistad. Después los niños de 5º de infantil cantaron "Si estás feliz". Todos acabamos cantando y bailando con ellos. ¡Qué divertido!
Y el viernes, tuvimos manualidades. Los alumnos de 2º nos ayudaron a hacer una estrella reciclada con un cartón de tetra-brik, unas tijeras y nuestras manos. Podéis ver nuestras fantásticas estrellas.
Y este es el feliz final de nuestra English Week …pero la siguiente pronto llegará.